Snow may be on its way in time for more Vermont ski resorts to open for Thanksgiving weekend
Tuesday, November 22, 2011 at 10:03 AM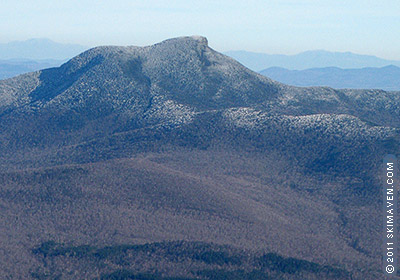 I flew in over a frosty-topped Camel's Hump yesterday afternoon after a trip out of town. I soon heard that the forecast calls for a winter storm tonight into Wednesday! Could be a few to several inches of snow accumulation, or a mix of rain and snow depending where you are in Vermont. [See forecast.]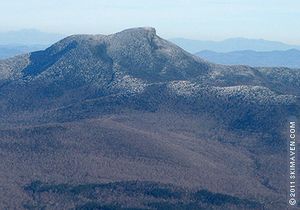 The new colder temperatures and potential snowfall may help those Vermont ski resorts that want to open this Thanksgiving week and weekend.
Stowe has confirmed that they will open on Wednesday, November 23. Killington has continued to remain open. Other resorts such as Sugarbush, Jay Peak, Smugglers' Notch, Stratton, Okemo and Mount Snow are also blasting snow and keeping a watchful eye on forecasts for their areas with plans to open ASAP.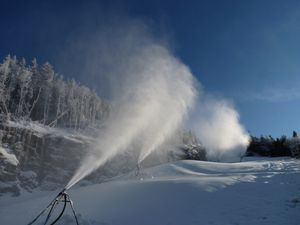 Find links to the snow condition reports at Vermont ski resorts here on our site. And have a terrific Thanksgiving!
Photos: Top, Camel's Hump as seen from the air on November 21. Bottom, making snow on Upper Rumrunner at Smugglers' Notch on November 21, courtesy of the ski resort.
Filed in: Alpine / downhill skiing, Fall & Early season, Jay Peak, Killington, Mount Snow, Okemo, Smugglers' Notch, Stowe, Stratton, Sugarbush
Share This Blog Post
Post a Comment
No Account Needed! To post without any kind of account, you can type in a name, nickname or trail name and an email (which we do not collect or use) then select "I'd rather post as guest." We'd love to hear from you!